Journal Categories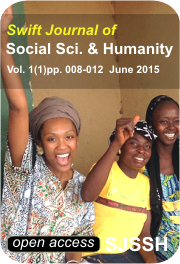 Swift Journal of Social Sciences and Humanity (SJSSH)
June 2015 Vol. 1(1), pp. 008-012
Copyright © 2015 Swift Journals
Original Research Paper
Housing Finance in Urban Areas of Nigeria: An Empirical Example from Akure, Ondo State
Olumide Ayeniyo
Department of Business Administration, Adekunle Ajasin University, P.M.B. 001, Akungba-Akoko Ondo State, Nigeria
*Corresponding Author E-mail: olumideayeniyo@yahoo.com
Accepted 19 May, 2015
Abstract
This paper explores housing finance in urban areas of Nigeria drawing from a study of the situation in Akure, the capital city of Ondo state, which is one of the 36 states that make up the country. It examines how households sourced their finance to build, including availability of mortgage finance as anticipated in the first and second national housing policies. The paper also identified the challenges associated with housing finance in the study area. A structured questionnaire was administered to selected residents of the city, using the systematic sampling technique. This involved the selection of every 10th building in the nine wards into which the city was stratified. In all, a total of 1266 questionnaires was administered to obtain information on the Socio-Economic characteristics and methods of financing housing, but 1098 sets were recovered. In-depth interviews were also conducted on key officials of agencies and organizations active in the housing market in the city. Besides, other relevant materials and data were obtained from published sources including government departments and agencies. The paper revealed that the majority of households in the city sourced housing finance from informal sources while the mortgage system contributed insignificantly to housing development in the city. The study is indicative of the deficient mortgage finance system in the country.
Keywords: Housing, Finance, Accessibility.
Read
[Full Text - PDF]
How To Cite This Article:
Olumide Ayeniyo. Housing Finance in Urban Areas of Nigeria: An Empirical Example from Akure, Ondo State. Swift Journal of Social Sciences and Humanity 1(1), pp. 008-012.