Journal Categories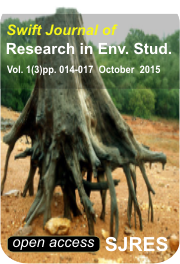 Swift Journal of Research in Environmental Studies (SJRES)
October 2015 Vol. 1(3), pp. 014-017
Copyright © 2015 Swift Journals
Original Research Paper
Evaluation of Soil Erodibility on the Agricultural Soil of the Central Zone of Adamawa State, Nigeria
TYA, T.S.K. AND OLUWASEYE, A.E.
Department of Agricultural and Environmental Engineering, Modibbo Adama University of Technology, Yola

*Corresponding Author E-mail: tsktya@gmail.com
Accepted 08 October, 2015
Abstract
Soils of the agricultural central zone of Adamawa state were evaluated to ascertain the soil erodibility of the area. Soil samples were collected from three locations, namely, University farm, Federal Housing and Geriyo which represent the entire soil of the agricultural central zone. Soil samples taken from the field were taken to the laboratory for analysis to determine particle size, permeability and organic matter content of the soil. Erodibility was estimated using erodibility monograph. The results showed that average permeability values obtained ranges between 5.26 to 20.57 cm/hr. The values of the average organic matter content of the soil series were found to be 1.45, 2.05 and 2.34% of University farm, Federal Housing and Geriyo, respectively. Average erodibility values range from 0.16 to 0.24 for the entire area. The results reveal that Geriyo soil series, which has the lowest erodibility value of 0.16 is least prone to erosion of the three soil series, and therefore the best in terms of soil conservation practice. The relationship between organic matter content and erodibility , permeability and erodibility had a coefficient of determination ( r2 ) of 0.50 and 0.11, respectively. Statistically, using t-test the result showed that there was no significant difference between the evaluated and estimated erodibility of the soil in the area.
Keywords: soil, evaluation, erodibility, permeability, organic matter.
Read
[Full Text - PDF]
How To Cite This Article:
TYA, T.S.K. AND OLUWASEYE, A.E. Evaluation of Soil Erodibility on the Agricultural Soil of the Central Zone of Adamawa State, Nigeria Swift Journal of Research in Environmental Studies 1(3), pp. 014-017.