Journal Categories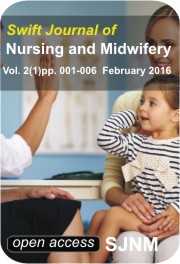 Swift Journal of Nursing and Midwifery (SJNM)
February 2016 Vol. 2(1), pp. 001-006
Copyright © 2016 Swift Journals
Original Research Paper
A Study of Infectious Disease Responses, Through the Input of Primary Health Centers and Outpatient Attendance in Hilla City /Iraq
Dr. Fakhria muhabse, Dr. Salma Kadhum
Babylon University, Faculty of Nursing, Department of Nursing Sciences, Hilla, Iraq

*Corresponding Author E-mail: fakhriabaghdad@yahoo.com
Accepted 4th February, 2016
Abstract
Abstract: Worldwide Infectious diseases is considered as the cause of high death rate, their way of transmission gives both individuals and community concern, societal beliefs and norms can affect the people's behavior towards the factors of the transmission of the disease. Iraq still accounts among countries of high incidence of these diseases, though, there are efforts made to increase awareness about the infectious diseases by the Ministry Of Health, through mass media, education of people and supports by UN and some organizations. A descriptive analytic design study was conducted on Nonprobability sampling of (100) participants conducted in two Primary Health Care Centers and outpatient department in Hilla teaching hospital. A questionnaire has been used as a tool for data collection from the period of the 1st of February to 20th April 2015. Descriptive and inferential statistical analyses were used to analyze the data. The results of the study revealed that (62%) sample age was between (32-38) years, (72%), were females, (38%) secondary school graduates, and (73%) did not have a job, (87%) were residents of urban areas, (86.3%) used tap water. Results showed significance for most of the domains with age, as well as with sex and educational level except the item concerning (Awareness about clinical manifestations) at P≤ 0.05.
Keywords: Response, outbreak, infectious diseases, attendance, awareness
Read
[Full Text - PDF]
How To Cite This Article:
Dr. Fakhria muhabse, Dr. Salma Kadhum. A Study of Infectious Disease Responses, Through the Input of Primary Health Centers and Outpatient Attendance in Hilla City /Iraq. Swift Journal of Nursing and Midwifery 2(1), pp. 001-006.