Journal Categories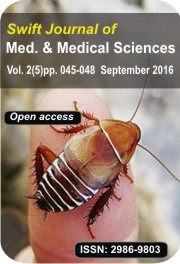 Swift Journal of Medicine and Medical Sciences (SJMMS)
September 2016 Vol. 2(5), pp. 045-048
ISSN: 2986-9803
Copyright © 2016 Swift Journals
Original Research Paper
Bacteriological Survey of Cockroaches in Calabar Metropolis, Cross River State, Nigeria
Maurice. M., Otu-Bassey. I., Djieyep. N.A.C., Akpan. S., Victor. N.
Department of Medical Laboratory science, Faculty of Allied Medical Sciences,University of Calabar, Nigeria
*Corresponding Author E-mail:
mauricembah@yahoo.fr
Accepted 18th August, 2016
Abstract
The Bacteriological survey of cockroaches was carried out in Calabar Metropolis. A total of 150 cockroaches was caught in kitchens; bedrooms, bathrooms, and toilets of enrolled houses in the study. Of the total number caught using the sweep net and the Insecticide spray methods, 85 (56.7%) were identified as the American cockroach (Periplaneta americana) and 65 (43.3%) were identified as the German cockroach (Blattela germanica). The external surfaces of cockroaches were washed in sterile water and cultured onto Nutrient, Macconkey blood agar respectively. Standard bacteriological and biochemical tests were performed to identify the bacterial isolates at the Genus level. A total of 30 pools was made from the 150 cockroaches caught and the following bacteria were isolated from the pools: Staphylococcus aureus was isolated in 18(62%) pools out of 30 followed by Escherichia coli in 8 (26.7%) pools, Klebsiella Pneumonia in 7 (24.6%) pools, Proteus mirabilis in 7 (24.6%), Pseudomonas aeruginosa in 6 (20.1%), Streptococcus faecalis in 4 (13.8%) and the least was Citrobacter spp in 3 (10.3%) pools. Of the total number of bacteria recorded in this study, the highest number of isolates were from the toilets 7 (70%) followed by bathroom and kitchen with 4 (66.7%) each and lastly the bedrooms with 13 (25%). Cockroaches caught from the toilets had the highest bacterial isolate per pools 18 (62%) followed by bathrooms 15(51.7%) cockroaches, kitchens with 11(37.9%) lastly by those from bedrooms 6 (20.7%). From the results obtained in this study, cockroaches present an important public health threat to the residents of the area and should be controlled.
Keywords: Bacteriological, survey, cockroaches , Calabar
Read
[Full Text - PDF]
How To Cite This Article:
Maurice. M., Otu-Bassey. I., Djieyep. N.A.C., Akpan. S., Victor. N. Bacteriological Survey of Cockroaches in Calabar Metropolis, Cross River State, Nigeria. Swift Journal of Medicine and Medical Sciences 2(5), pp. 045-048.