Journal Categories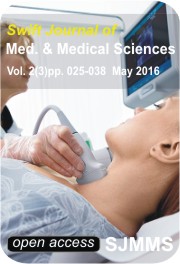 Swift Journal of Medicine and Medical Sciences (SJMMS)
May 2016 Vol. 2(3), pp. 025-038
Copyright © 2016 Swift Journals
Original Research Paper
S100 Expression in Astrocytes of the Developing Cerebella of the Offspring Rats of Hyperthyroidism Mothers (Biochemical, Histological and Immunohistochemical Studies)
Sahar Youssef1, Olfat A. Abd-El- Aty1 and Enas N. Morgan2&3
1Anatomy Department, Faculty of Medicine for Girls, Al-Azhar University, Cairo, Egypt; 2Physiology Department, Medical College, Zigzag University, Egypt; 3College of Medical Rehabilitation, Qassim University, KSA.

*Corresponding Author E-mail: sahar_sayed@yahoo.com
Accepted 16th May, 2016
Abstract
Background: Thyroid dysfunctions are the second most common endocrinological disorders in pregnancy after diabetes mellitus. Uncontrolled and inadequately treated maternal hyperthyroidism may result in fetal and neonatal hyperthyroidism that may affect the cerebellar development. Astrocytes are target cells for thyroid hormones. Aim: To verify the effect of maternal thyrotoxicosis on the biochemical and histological architecture of the offspring's developing cerebellum. Material and Methods: Thirty pregnant rats were divided into two equal groups control and hyperthyroidism. The cerebella of all offspring of both the groups were examined in 1st, 3rd, 5th and 7th postnatal days. One hemisphere was used for histological and immunohistochemical study and the other for biochemical investigation. Also, estimation of Thyroid Hormone levels and Glutathione Peroxidase in the serum was done. Results: The offspring of the treated rats showed a significant increase in the levels of T3, and T4 in all studied ages (p<0.001). In addition, the homogenized fluid of the cerebella from all offspring of treated rats showed decreased levels of Glutathione Peroxidase levels and increased Malondialdehyde levels (p<0.001 for both) indicating high oxidative stress and low in antioxidant defense. Light microscopic investigation of the cerebellar cortex of the offspring of the treated rats showed marked growth retardation in the cerebella in the form of shallow fissures and delayed newly formed ones. Some degenerative changes were observed in the four layers of the cerebellar cortex; some cells have vacuolated cytoplasm with the presence of interstitial hemorrhage during all studied ages. The dendritic arborization of Purkinje cells of experimental animals showed degeneration in the form of less branching dendrites or fuse with adjacent ones. Application of S100 immunostaining revealed that the most affected and expressed cells were the astrocytes which appear markedly immunoexpressed and altered morphologically showing enlarged irregular cells with multiple thick disrupted processes. Conclusion: Hyperthyroidism in rats during gestation and lactation periods badly affected the development of cerebellum of the offspring at all examined period. Significantly, astrocytes altered morphologically. The disturbed cerebellar cytoarchitecture might be due to increase oxidative stress and impaired antioxidant defense system.
Keywords: Induced Maternal Hyperthyroidism, Oxidative Stress, Offspring Developing Cerebellum, Astrocytes, S100.
Read
[Full Text - PDF]
How To Cite This Article:
Sahar Youssef, Olfat A. Abd-El- Aty and Enas N. Morgan. S100 Expression in Astrocytes of the Developing Cerebella of the Offspring Rats of Hyperthyroidism Mothers (Biochemical, Histological and Immunohistochemical Studies). Swift Journal of Medicine and Medical Sciences 2(3), pp. 025-038.