Journal Categories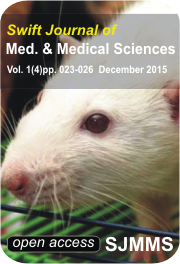 Swift Journal of Medicine and Medical Sciences (SJMMS)
December 2015 Vol. 1(4), pp. 027-037
Copyright © 2015 Swift Journals
Original Research Paper
The Histological Structure of the Liver after the Administration of Interferon Α -2a in Adult Male Albino Rats and the Role of Ursodeoxycholic Acid (UDCA) Supplementation
Amal A. Afeefy
Anatomy Department, Faculty of Medicine, Al-Azhar University, Taif University.

*Corresponding Author E-mail: amal.afeefy73@yahoo.com
Accepted 7th December, 2015
Abstract
Objective, The aim of this study is to observe the histological structure of the liver of rats after an injection of (IFN-α) and to determine the role of UDCA supplementation. Materials and methods, 45 adult male albino rats were divided equally into three groups. Group I served as the control group. Group II included rats that received IFN-α alone (100000 IU/kg/ three times/week, intraperitoneally). Group III included rats that received both IFN-α (at the same previous dose) and UDCA at a dose of 25 mg/kg once daily. At the end of the experiment (8 weeks), all animals were sacrificed and liver was excised. Paraffin sections were prepared and stained with H&E, Masson trichrome stain and immunohistochemical staining for hepatocyte paraffin-1 (Hep Par-1). Morphometric and statistical analyses were carried out. Results, Liver of the group that received IFN-α showed most of hepatocytes had marked cytoplasmic vacuolations, vascular congestion with prominent sinusoidal Kupffer cells, congestion and dilatation of the portal veins. Morphometric and statistical analyses showed a significant marked decrease in the area% of the positive Hep par 1, indicating cytoplasmic degeneration. Changes were limited by concomitant UDCA supplementation with IFN-α. Conclusion, IFN-α exerted a deleterious effect on the histological structure of the liver in rats and concomitant supplementation of UDCA minimized these effects.
Keywords:IFN-α - UDCA, liver, rat.
Read
[Full Text - PDF]
How To Cite This Article:
Amal A. Afeefy. The Histological Structure of the Liver after the Administration of Interferon Α -2a in Adult Male Albino Rats and the Role of Ursodeoxycholic Acid (UDCA) Supplementation. Swift Journal of Medicine and Medical Sciences 1(4), pp. 027-037.