Journal Categories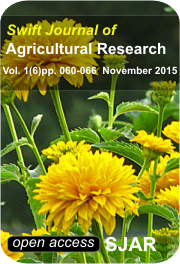 Swift Journal of Agricultural Research (SJAR)
November 2015 Vol. 1(6), pp. 060-068
Copyright © 2015 Swift Journals
Original Research Paper
Role of Pot Marigold as a Companion Plant and Vermicompost in Protecting and Production of Tomato crop from Infestation with Tomatoes Moth in Egypt
*Abd El-Salam,A.M.E. ;**Yassen, A.A.; **Sahar, M. Zaghloul;* Salem,S.A.;**EL-Aila, H.I.,
*Pests & Plant Protection **Department Plant nutrition Dept., National Research Centre, Dokki, Giza, Egypt

*Corresponding Author E-mail: sadeksalem2002@yahoo.com
Accepted 02 November, 2015
Abstract
A field experiments were carried out during the two successive seasons of 2012/2013 and 2013/2014, in Qualubia Governorate, Egypt, to study the effect of different rates of vermicompost (0, 2, 4, 10 ton/feddan) on different growth parameters, yield on pot marigold, tomato and protecting and production of tomato crop from infestation with Tomatoes moth in Egypt. Results showed that, application of vermicompost gave a significant increase in growth parameters and yield in pot marigold and tomato plants at the first and second seasons when compared with the control treatment. On the other hand, the addition of vermicompost of pot Marigold significantly increased natural enemies densities of Trichogramma sp and Diadegma sp or repellent and improved for tomatoes moth control. In addition, data showed that planted marigold with tomato in the same plot increased growth and yield as compared to planted Tomato alone without marigold as resulting to decrease the pest populations.
Keywords: Yam starch, pounded yam,vermicompost; Pot marigolds; tomato crop; growth parameters; yield Tomatoes moth
Read
[Full Text - PDF]
How To Cite This Article:
*Abd El-Salam,A.M.E. ;**Yassen, A.A.; **Sahar, M. Zaghloul;* Salem,S.A.;**EL-Aila, H.I. Role of Pot Marigold as a Companion Plant and Vermicompost in Protecting and Production of Tomato crop from Infestation with Tomatoes Moth in Egypt. Swift Journal of Agricultural Research 1(6), pp. 060-068.