Journal Categories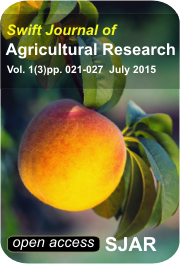 Swift Journal of Agricultural Research (SJAR)
July 2015 Vol. 1(3), pp. 021-027
Copyright © 2015 Swift Journals
Original Research Paper
Modeling of Biology and Bioclimatology Applied on Plant in Palestine
*Jehad M. H. Ighbareyeh1, 2, A. Cano-Ortiz, E. Cano Carmona, Mohammed M. H. Ighbareyeh, Asma A. A. Suliemieh
Department of Animal and Plant Biology and Ecology, Faculty of Experimental Sciences, University of Jaen, Jaen, Spain.
Department of Environmental Engineering Technology, College of Engineering, Palestine Polytechnic University, Hebron, Palestine.

*Corresponding Author E-mail: jehadighbareyeh@hotmail.com
Accepted 9 July, 2015
Abstract
The peach (Prunus persica L.) is one of the most important export crops in Palestine and climate effects on plum yield were studied.We analyzed the mean annual temperature and precipitation using data from tenth weather stations from the Palestine Meteorological Department, recorded in the period from 1993-2008 (15 years), with the same year's plant production (rain-fed) from the Palestinian Central Bureau of Statistics (PCBS). Statistical tests included a bioclimatic analysis of Palestinian meteorological stations for the period previous by using the bioclimatic classification of the Earth of Rivas Martinez Salvador, with regard to simple continentality index, compensated thermicity index, annual ombrothermic index, water deficit and soil water reserve. In concluded, both bioclimate and climate factors were influenced on plant production and growth activities, yield level was positively correlated to several bioclimatic and climatic parameters the year previous to the yield years because the histograms are positive. Moreover, the optimum for the production of peach is achieved with value of annual ombrothermic index more than 2.5, simple continentality index value between 15-22, compensated thermicity index value between 250-420, summer heat is required to mature the crop, with mean temperatures of the hottest month between 20 and 30 °C (68 and 86 °F), annual rainfall between 350-900 millimeters, the dry to humid of ombrotype and with upper inframediterranean to mesomediterranean of bioclimate belts or thermotype.
Keywords: Palestine, Bioclimate, Climatic, Biology, peach.
Read
[Full Text - PDF]
How To Cite This Article:
Jehad M. H. Ighbareyeh1, 2, A. Cano-Ortiz, E. Cano Carmona, Mohammed M. H. Ighbareyeh, Asma A. A. Suliemieh. Modeling of Biology and Bioclimatology Applied on Plant in Palestine. Swift Journal of Agricultural Research 1(3), pp. 021-027.