Journal Categories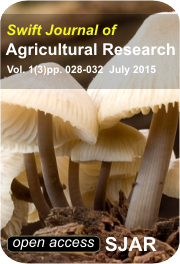 Swift Journal of Agricultural Research (SJAR)
July 2015 Vol. 1(3), pp. 028-032
Copyright © 2015 Swift Journals
Original Research Paper
Chemical Composition and Antifungal Activity of the Essential Oil from Deverra Tortuosa against Phytopathogenic Fungi
* Azzazi, M. F a; Ab; Afifi, M. Tammam, O a; Sheikh Alsouk, A. M a
Environmental studies and research institute, University of Sadat city
Faculty of Science Menoufiya University

*Corresponding Author E-mail: mfazzazy@hotmail.com, mohamed.azzazy@esri.usc.edu.eg
Accepted 14 July, 2015
Abstract
The hydrodistilled essential oil of Deverra tortuosawas DC. Analyzed by GC–MS. Twenty five compounds were identified, of which terpinene-4-ol (24.21 %), bisabolene (12.61 %), apiol (11.56 %), 2-allyl-p-cresol (6.44 %), bornyl acetate (4.77 %), σ-Elemene (4.04 %),myristicin (3.80 %),iso thymol methyl ether (3.61 %) and methyl eugenol (3.05 %) were the major compounds. Essential oil of Deverra tortuosa was tested for anti-fungal activity, which was determined by disc diffusion and minimum inhibitory concentration (MIC) determination methods. The oil displayed great potential of anti-fungal activity as a mycelial growth inhibitor against the tested phytopathogenic fungi such as Fusarium oxysporum, Fusarium moniliforme, Fusarium solani, and Botrytis fabaea. It showed a complete inhibition in radial growth at 4µl/ml PDA.
Keywords: Antifungal activity, Deverra tortuosa DC, essential oil, GC–MS.
Read
[Full Text - PDF]
How To Cite This Article:
Azzazi, M. F a; Ab; Afifi, M. Tammam, O a; Sheikh Alsouk, A. M a. Chemical Composition and Antifungal Activity of the Essential Oil from Deverra Tortuosa against Phytopathogenic Fungi. Swift Journal of Agricultural Research 1(3), pp. 028-032.