Journal Categories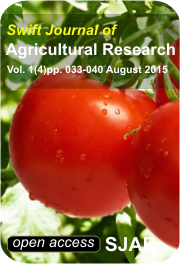 Swift Journal of Agricultural Research (SJAR)
August 2015 Vol. 1(4), pp. 033-040
Copyright © 2015 Swift Journals
Original Research Paper
Comparative Analysis Of Tomato Plant (Lycopersiconesculentum) And Stubborn Grass (Eleusineindica)In The Phyto-Remediation Of Soils Polluted With Heavy Metals
Omobowale M.O*and Rauf A.O.
Department of Agricultural and Environmental Engineering, University of Ibadan, Nigeria

*Corresponding Author E-mail: mo.omobowale@mail.ui.edu.ng
Accepted 15 July, 2015
Abstract
There is a continuous waste discharge and pollution of the environment due to the increase in establishment of industries and factories in Nigeria. Waste treatment facilities are less considered, due to their high cost and maintenance, but phytoremediation offers an option towards solving this problem. Investigations were carried out to compare the remediating capacity of tomato plant and stubborn grass in reducing the pollution caused by heavy metals, namely Lead (Pb), Zinc (Zn) and Copper (Cu). Soil samples were taken from 6 different points at an industrial estate in Ibadan, Southwestern Nigeria and these were analyzed to determine the level of contamination of the afore mentioned pollutants. 7 wooden seed boxes were constructed for the experiment. All were filled to a depth 15cm with polluted soil after which tomato and stubborn grass were planted in the three seed boxes, each with a varied population of 10, 20and 30 stands of plants while the last seed box was used as a control. Phyto-remediation was then carried out using the two plant species for a period of 8 weeks, after which soil analysis was performed to evaluate the changes in the contamination level of the soil. Both plants were found to be capable of remediating contaminated soil. In comparison with tomato, stubborn grass which removed about 155.5 ppm of Pb was found to be a little less effective than tomato which removed 159.9 ppm. However, stubborn grass performed better in the uptake of Zn and Cu, removing 323.0 and 152.3 ppm of Zn and Cu respectively, compared with tomato which removed 283.4 and 131.6 ppm of Zn and Cu respectively. Moreover, total pollutant removed from the soil was found to be directly correlated with the number of plants used for remediation. It was concluded that stubborn grass is generally more efficient than a tomato plant in soil remediation and more efforts should be directed towards using phytoremediation as a cost-effective method of soil treatment.
Keywords: Phyto-remediation, Heavy metals, Pollution, Waste management, Soil.
Read
[Full Text - PDF]
How To Cite This Article:
Omobowale M.O*and Rauf A.O. Comparative Analysis Of Tomato Plant (Lycopersiconesculentum) And Stubborn Grass (Eleusineindica)In The Phyto-Remediation Of Soils Polluted With Heavy Metals. Swift Journal of Agricultural Research 1(4), pp. 033-040.